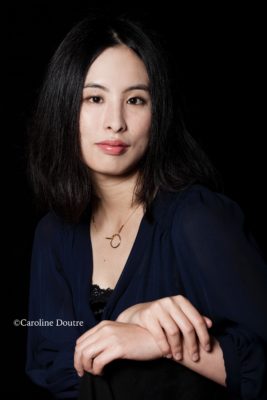 Born in Tokyo , she started to go to Yamaha Music School from 2 and half years old, in order to awake her musical sensitivity. Interested in the music of Bach, she studied at the Lutheran junior high school of Kumamoto where she discovered her first pipe organ.
Maiko Kato has studied in Japan with Chieko KOGA,Mayumi Tozawa, Tsuguo Hirono and Yuichiro Shina. In 2011, she obtained her Master of Music at the National University of Arts at Tokyo. Maiko Kato came to France in order to specialize on the pipe organ builder Cavaille-Coll.
During her studies, she had the opportunity to study at various master classes with different teachers such as Daniel Roth, Ludger Lohman, Michel Chapuis, Louis Robilliard, Olivier Latry, Wolfgang Zerer.
She came in Europe to study with Michel Bouvard and Jan Willem Jansen for the pipe organ part and Yasuko Bouvard for the harpsichord part at the Conservatory of Toulouse where she was awarded the First Prize for organ with unanimously of the jury in June 2010.
Maiko Kato began her professional career as a soloist in France taking part in various concerts and musical events national. Passionate about early music, she also accompanies historical instruments working with musicians such as Daniel LASSALLE, Gilles RAMBACH, Fabrice Millischer. Also she played 'Four seasons' and 'Concerto for Oboe' of A.Vivaldi like cembalist with the Orchestre of the Capitole of Toulouse.

She gaves several concerts for the Festival "Toulouse les Orgues", and in October 2009, she has given a recital at the radio show "Organo pleno", broadcast live on France Musique.
In April 2010, she won the first prize in the Grand Prix d'Orgue Jean-Louis Florentz awarded by the Academy of Fine Arts at the Cathedral of Angers.
In 2011, she was admitted in the pipe organ classe of the "centre d'études supérieur de Musique et Danse of Toulouse". She produced her first CD, end of 2011, with trombonist Fabrice Millischer (Winner of the victories of classical music in 2011) and has given concerts at the festival "Toulouse les Orgues", church of Notre Dame du Bourg in Rabastens and Les Invalides in Paris.
In 2013,she is awarded the 3rd Prize and the Public's Prize at the International Organ Competition Xavier Darrasse[Toulouse]. She was  also finalistat of the Silbermann Organ Competition of this year.
Actually she is the main organist of the Lutheran junior and senior high school in Kumamoto and teaches organ and harpsichord in Kwassui women's university in Nagasaki